Press Releases
Stripe OLT achieve CREST certification for Penetration Testing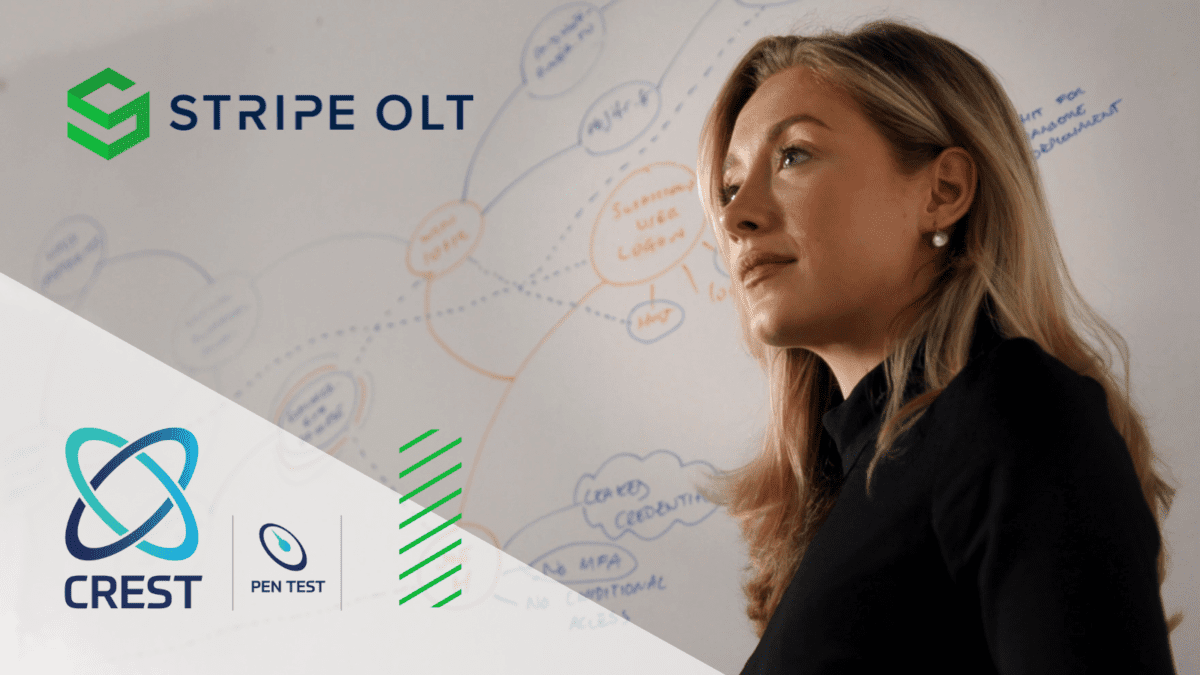 The Stripe OLT experts are committed to developing and delivering exceptional business technology solutions. Their team have gained a wide range of industry-leading accreditations over the last 10 years, and continue to build partnerships with global technology providers. As such, they are incredibly proud to announce their latest achievement – They are now CREST certified penetration testers. 
CREST is the not-for-profit accreditation and certification body representing the technical information security industry. CREST provides internationally recognised accreditation for organisations and individuals who provide vulnerability assessment, penetration testing, cyber incident response, threat intelligence services, and Security Operations Centre (SOC) services. Established in 2006 following the clear need for more regulated professional services, CREST is now recognised globally as the cyber assurance body for the technical security industry.
Through successfully achieving this accreditation Stripe OLT's clients can be confident that:
Their Penetration Testing will be delivered by CREST-qualified consultants with up-to-date knowledge, skill and competence in dealing with the latest vulnerabilities and techniques used by real attackers.
Their Penetration Testing will be delivered with best practice policies and procedures enforced.
Their security consultants have met a high-level of industry standards, underpinned by meaningful and enforceable codes of conduct.
Head of Cyber Security, and one of the driving forces behind the CREST achievement, Ryan Pullen, says:
"A data breach can occur to anyone at any time, it doesn't matter if you're an SME or a global corporation, just look at the recent Facebook breach – no one is exempt. We frequently come across complex networks and infrastructures that have been built without security in mind, but it's now 2021 and organisations need to employ a security-first mindset – A penetration test is a great first step in understanding technical controls and how effective they are.

We're extremely proud of this latest achievement and it only solidifies the skills and knowledge of our SecOps team. For us, it was essential to gain this accreditation to prove our commitment to this industry."
Ian Glover, President of CREST, remarked:
"By achieving CREST accreditation, Stripe OLT positions itself as a trusted provider of penetration testing services and demonstrates that its business processes, data security and testing methodologies meet the highest standards.

With the continuing rise of sophisticated cyber-attacks from criminal and state-sponsored hacking groups, Stripe OLT is well-placed to take advantage of the growing demand for professional penetration testing services."
---
NOTES TO THE EDITOR
Any comments regarding this press release to be sent to Hannah Evenden-Morley, Marketing Manager, hannah.morley@stripeolt.com or 0117 974 5179
Stripe OLT Consulting Limited headquarters: 18 Hotwell Rd, Bristol, BS8 4UD
Stripe OLT Consulting Limited London office: 29 High Holborn, London, WC1V 6AZ
Website: www.stripeolt.com
Stripe OLT specialise in secure cloud business technology, providing IT, Cloud Services and Cyber Security Solutions.
Their accreditations include: Microsoft Gold Cloud & Security, CREST and ISO 27001.
Stripe OLT's clients include: Bristol Airport, Hargreaves Lansdown, MoneySuperMarket Group, National Rail & Knotel