Microsoft announces Co-pilot: The productivity game changer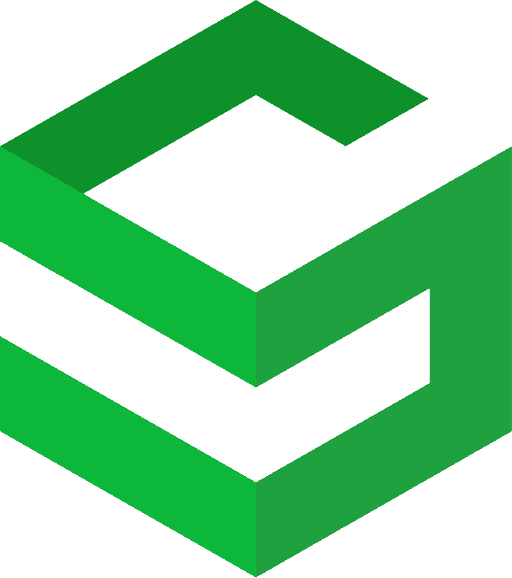 In a nutshell:
This virtual assistant is designed to streamline the mundane tasks of modern work, allowing users to spend more time on the tasks that matter.
"With our new Copilot for work, we're giving people more agency and making technology more accessible through the most universal interface — natural language."
The future of work
what is Microsoft Copilot?
On the 16th of March, Microsoft announced it's latest AI-powered service, Microsoft Copilot. This virtual assistant is designed to streamline the mundane tasks of modern work, allowing users to spend more time on the tasks that matter.
This tool has been developed to integrate seamlessly into your Microsoft 365 suite, so you can be"more creative in word, more analytical in excel, more expressive in PowerPoint, more productive in outlook and more collaborative in teams".
Jared Spataro, Microsoft's vice president, emphasised:
"To build Copilot we didn't just connect ChatGPT to Microsoft 365 – Copilot is powered by what we call the Copilot system"
What is The Microsoft copilot system?
The process starts with your prompt in a Microsoft 365 app, Copilot pre-processes this prompt with a technique called 'grounding' which effectively improves the quality of the prompt.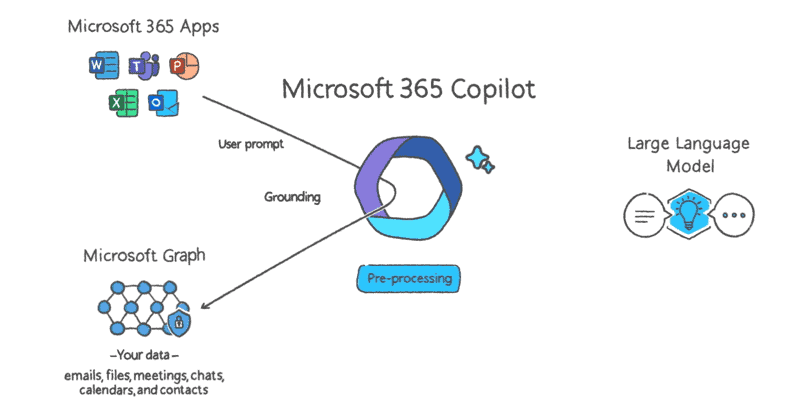 2. The next step is for co-pilot to use Microsoft Graph (which collects your data from emails, files, meetings etc) to add content and context to the prompt. The Large Language Model then receives the modified prompt and post processes it (involving additional grounding calls through Microsoft Graph).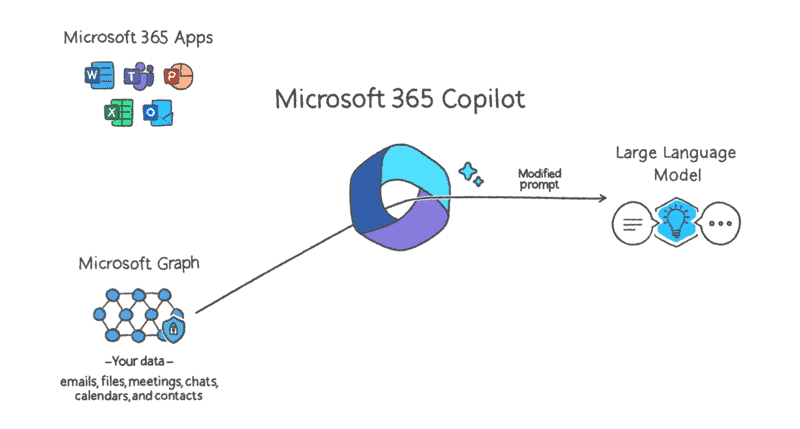 3. Finally, the response is then sent back to the Microsoft 365 apps for users to assess and adjust accordingly.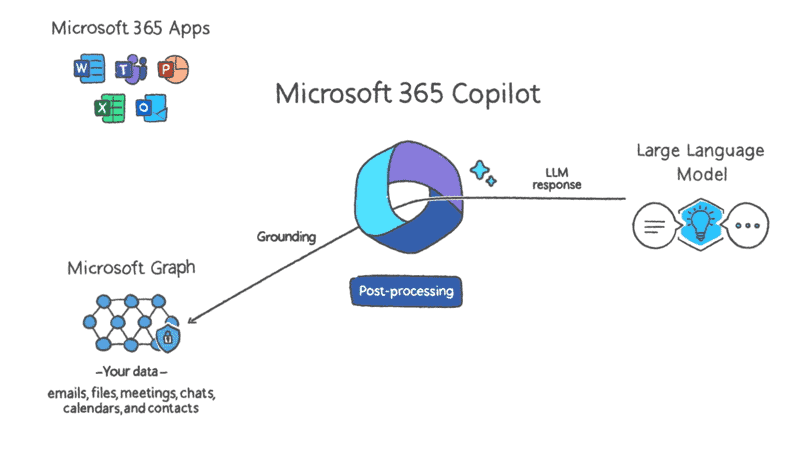 So, how does Microsoft Copilot work alongside essential M365 apps?
How will Microsoft Copilot work in Teams?
Copilot in Teams simplifies the organisation of meetings and enables participants to get the most out of each session by providing key discussion points, key actions needed to be taken and suggestions for when the next catch up should be.
Possibly the most useful feature of Copilot in Teams is the ability to catch up on any meetings you are late to attending, supported with word-for-word citations that are relevant to the meetings discourse, the aim of this feature is prevent any disruptions to conversations and enable everyone to stay on the same page.
How will Microsoft Copilot Integrate in Excel?:
Copilot in Excel helps you by analysing your data in easy-to-understand summaries – the service can even generate graphs and models depicting your selected data. An impressive feature of Microsoft Copilot is it's ability to identify correlations between any findings and even generate projected data, these new powers enable you to explore your data and understand it on a whole new level.
How Does Microsoft Copilot Work In Word?:
Microsoft Copilot in Word can help you write drafts for proposals, speeches, reports and so much more – all done through simple prompts.
Allowing you to pull data from excel, outlook and the entire M365 suite, your documents will be elevated through detailed content and accurate summaries, you can even choose the tone of voice to enable effective communication.
What Are The features Of Microsoft Copilot In Outlook?:
Microsoft Copilot in Outlook is designed to cut out all the unnecessary noise and allow you to focus on the emails that need prioritising. Alongside this, Copilot also summarises long email threads to avoid wasting time scrolling through each communication.
This service provides features like drafting responses (which you can adjust to the perfect length and tone) and inviting members of your organisation to events and meetings, with the necessary detail provided.
How Will Microsoft Copilot Improve PowerPoint?:
Copilot gives you the freedom to illustrate your data, documents and notes into expressive presentations, within seconds. With this new feature, your presentations will incorporate transitions, on-theme visuals and even provide naturally sounding speaker notes for you to expand on key points made in the presentation.
What is Business Chat?
Business Chat incorporates your entire M365 suite and gathers data from your email, calendar, documents, notes, contacts and presentations. This feature centralises all important information and keeps everyone in the team in the loop on any developments.
This tool is designed to provide overviews, summaries and potential next steps on projects, ensuring all relevant data is taken into account and communications between the team can be made easily.
Notes from Microsoft
Microsoft Copilot is built on Microsoft's comprehensive approach to security, compliance, privacy and responsible AI, meaning that a multidisciplinary team of researchers, engineers and policy experts have examined Copilot for potential errors, detected and then corrected any harmful content.
The Azure Content Moderation Stack is used across Microsoft services including Copilot, toolkits such as InterpretML and Fairlearn have been integrated to amend any data bias.
There is no doubt that this new development in practical AI will transform the modern workplace as we know it, and encourage a new, more productive and engaging way of working. Microsoft has highlighted the importance of users on feedback and reviews in the development of this tool…
"Sometimes Copilot will get it right, other times it will be usefully wrong, giving you an idea that's not perfect but still gives you a head start,"
Spataro explained during Microsoft's event, affirming that AI isn't here to replace anyone's job, but offer simplicity and support to users with the tasks that clog up their day.
Currently Microsoft Copilot is being tested with a select group of customers, to discover any issues and find out ways in which the service could improve, once the feedback has been provided and adjustments have been made, announcements on pricing and release dates will be made in the near future.
Personally, we can't wait for it's launch and don't doubt this is the future of work…
Want to know more about how you can integrate copilot into your organisation's modern Microsoft workplace? Get in touch with our experts today.