Microsoft FindTime – Your New Productivity Hack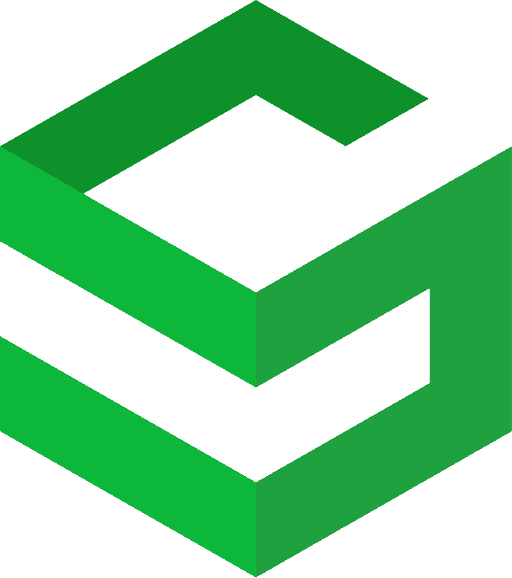 In a nutshell:
Want to know more about Microsoft Findtime?
Free to use and integrated into Outlook, this solution will save you a lot of time...
Utilising Microsoft FindTime
In today's remote landscape, meetings still prevail. Whether your meeting is hosted on Microsoft Teams, or in a physical location, meetings are a crucial element of workforce collaboration, productivity and business growth.
However, anyone familiar with business knows the headache of setting up meetings whereby everyone can attend – particularly if that meeting consists of multiple employees or external participants, all with different schedules. As such, Microsoft FindTime is a great meeting scheduler for businesses where efficiency and productivity are a top priority, simplifying and managing the process of scheduling meetings.
What is Microsoft FindTime?
Microsoft FindTime is a free add-in for Outlook that essentially assists employees in reaching a consensus on a meeting time that is convenient for everyone – eliminating wasted time and unnecessary emailing back and forth. The FindTime meeting scheduler shows the organiser which days and times are available for the selected attendees, before enabling the attendees to vote on the proposed times. Once you come to a time that suits everyone, FindTime sends out the Teams meeting invite automatically.
How can I install FindTime?

FindTime can be installed via Microsoft 365 Apps for Business, or through Exchange Online for Microsoft Enterprise users. It is available to be used with Outlook for Windows, Outlook for Mac and Outlook on the web.
Installing FindTime for Outlook Desktop:
1. Open Outlook
2. Select 'Home' and then 'Add-ins'

3. Search for 'FindTime'
4. Select 'Add'
5. FindTime should now appear in the home tab as 'Reply with Meeting Poll'

Installing FindTime for Outlook on the web:
1. Open Outlook in your browser
2. Select 'New Message'
3. Select the ellipses
4. Select 'Get Add-ins'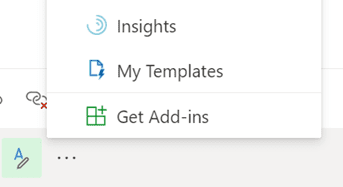 5. Search for 'FindTime'
6. To use, select the ellipses from a message and select 'FindTime'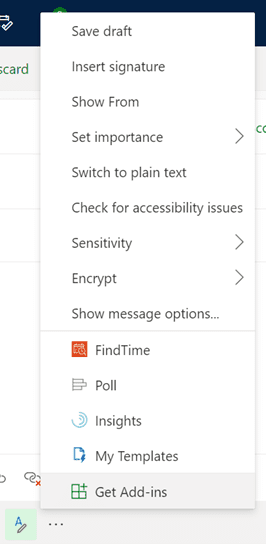 Once you've installed FindTime, create a new email, add attendees and select 'New Meeting Poll' – this will open the FindTime poll, allowing you to select the date, time and duration of the meeting based on the availability of attendees shown in red, orange or green. You can then propose your selected times to attendees, allowing them to vote and show their ideal date and time. Once a consensus is reached, the meeting invite is automatically sent out via Outlook.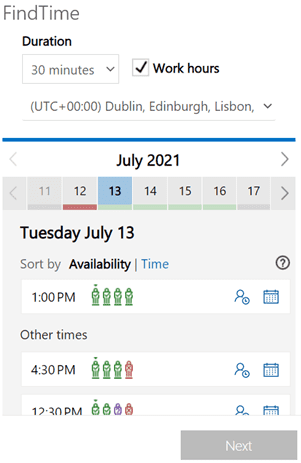 Key features
Works for internal and external users, with or without an Office 365 subscription. They don't even need to have installed the FindTime add-in.
The organiser uses free/busy data from recipient's Outlook calendars to pinpoint availability.
The organiser can then create a poll with suggested times and dates.
All recipients can vote in the poll, in addition to suggesting a new time themselves.
Meeting invites get automatically sent to the selected people once a time is decided.
Key benefits
Free to use and integrated into Outlook.
Available across companies and to individuals with various email programmes.
Utilising Azure, FindTime encrypts your personal information – protecting the content of the email and individual's identities if needed.
Automates the scheduling process – including arranging meetings, sending out the invite and emailing reminders.
Saves you valuable time, driving productivity and efficiency and allowing you to concentrate on more important aspects of your business.
Key takeaways
Utilising a comprehensive meeting scheduler that integrates into your existing Office 365 suite allows you to save on time and focus on running your business, whilst relieving the frustration of arranging meetings at a time to suit everyone. As a free add-in, the FindTime software has functionalities that businesses of any size would find useful, encouraging a streamlined and managed process for scheduling meetings.
At Stripe OLT, our Microsoft Gold certified team have direct access to the latest Microsoft tools and training sets, which means we can deliver and implement industry leading technologies to support and transform your business.
If you would like more information on how we can support your business needs with Microsoft 365 technologies, get in touch with our cloud experts here.